The Moselle Line Bullay-Trier, Nicknamed 'Little Boozer's Train' (Saufbähnchen)
The Moselle line known as 'Saufbähnchen' or 'Moseltalbahn' (Moselle valley line) came into existence because the Moselle towns of Bullay and Schweich wished to be connected to the economically important line Trier – Koblenz. The privately owned line, finished in 1905, quickly gained important passenger and freight traffic.
In 1908 a fast train connected Trier and Traben-Trarbach, in which passengers were supplied with food and drinks the drinkingbouts on board soon gave this train its name 'Saufbähnchen'.
Being one of the most wellknown passengers, writer Kurt Tucholsky in 1929 reported the wine tastings at each station and changing trains in Bullay, calling this train a 'decent' train.
When the first passenger railcar was put into use in 1936/37, this route was ultramodern. Towards the end of World War II the Moselle line replaced the destroyed 'Kanonenbahn' for the retreat from the western front.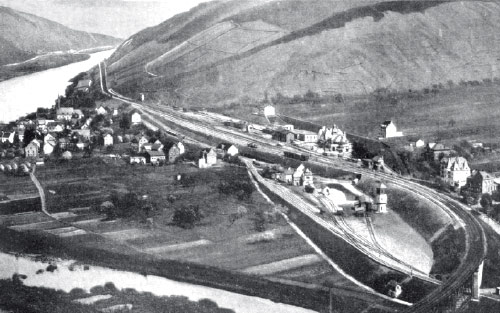 Huge military trains rolled through the Moselle valley. Between March and July of 1945 this route was also disrupted, caused by war destructions of stations, bridges and switches, which were repaired after the war by French pioneers.
The economic miracle of the 1950's brought the competition of the road; floodings made the economic situation worse. Neither necessary modernization such as the renewal of cables and installation of heavy tracks nor an economic rise from transporting building material for the canalization of the Moselle between 1956 and 1964 could prevent the end of the 'Saufbähnchen'. In 1961 mail transport by rail was stopped and shortly afterwards passenger transport from Traben-Trarbach to Bullay as well. The last route was closed on January 31st, 1968.