Railway stations along the Moselle railway
Along the Moselle railway system there are two types of railway stations: mainly onestoreyed reception halls on the upper Moselle between Trier and Bernkastel and mainly twostoreyed buildings between Bernkastel and Bullay.
The railway stations of the Moselle railway pictured here document an historical architectural language and attain their charm by contrasting local natural stonework with picturesque halftimbered construction.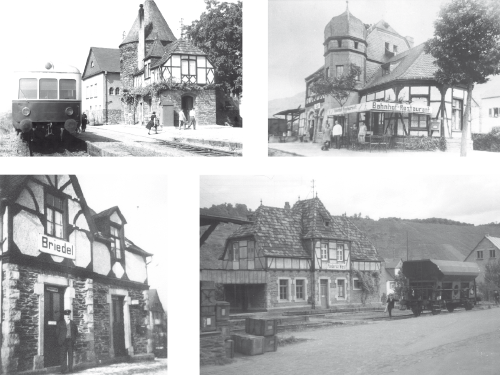 The railway station in Merl features an architectural anomaly: the former west tower of the old town wall, standing in the way of laying the railway tracks, was pulled down and rebuilt as part of the new station building.
Sadly, no traces of the railway station in Briedel still exist. In 1972 the building was torn down after a fire.
All other remaining railway stations are either inhabited or utilized for gastronomy and for cultural purposes.